Well, this is my last ScrapFactor layout as I was knocked out of the competition last week! It's OK, you don't need to feel too sorry for me – I was finding the whole thing a little bit stressful which was kind of defeating the object of entering the competition in the first place. This is the layout that I had in the knock out gallery, which is one of my favourites. Just goes to show, we all like different things!
I love this photo that my mum snapped of Jamie a few weeks ago. He looks so completely engrossed in what he is doing, totally oblivious to what is going on around him!
I've been looking for an opportunity to use this die cut tree and I thought it would go well with this picture of Jamie in the garden. I used the Craft Robo to cut it out and then only stuck down the trunk and the first half of the branches – I love the dimensional look this gives it. I used some teeny buttons from my stash to embellish it.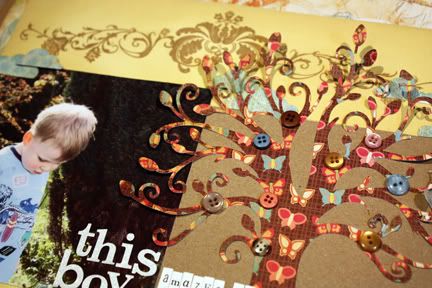 I used a digital brush by Rhonna Farrer and enlarged it in Photoshop, then printed it onto some yellow card which I distressed with Antique Linen distress ink.
Supplies: Patterned Paper – K&Co
Other – Craft Robo, Cloud Die by MFT, Making Memories letter stickers, Waltzingmouse stamps, Labels 4 Nestabilities, Tim Holtz Distress Ink
Hybrid – Gypsy Element Kit by Rhonna Farrer www.twopeasinabucket.com
Stationaries Kit by Linda GB www.scrapartist.com
The challenge for Week 6 was to use multiple photo's.
I love to use multiple photos on my layouts and I snapped this sequence of photos showing my son running in the garden a few weeks ago, pushing his little wagon about!
I wanted to use as many photos as I could to capture the whole sequence so I printed them out quite small in order to fit them on, and then picked one to use as a larger feature photo.
I picked some bright, sunny papers that went with the colours in the photos and used a Silhouette die cut for the title and the large sun. I punched some circles from Kraft cardstock, arranged them to look like a scalloped edge, and then finished off by adding some detailing with a white gel pen.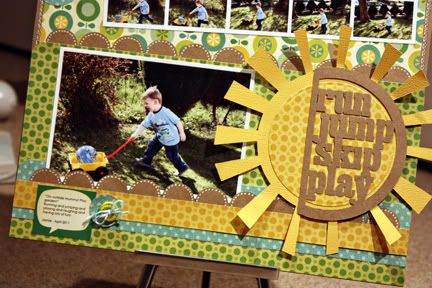 I used a journaling block from a Cosmo Cricket digital set and typed my journaling in Photoshop before printing out.
Supplies: Patterned papers – WRMK 72& Sunny
Other – Silhouette die cuts, buttons, twine, white gel pen.
Hybrid – Snorkel Element Pack by Cosmo Cricket www.jessicasprague.com
I'll be honest, this isn't my favourite layout but I just didn't have much time to spend on scrapbooking last week! No surprise then that I am currently in the bottom two
Here's a sneak peak of my survival layout, you can visit the
gallery
at UKS and vote for your favourite. Also, even if nobody else likes this layout, I love it. Just goes to show that beauty is in the eye of the beholder. And as a final note, as my mum always taught me, if you can't say anything nice….don't say anything at all.
Week 5 challenge was to use a single photo….
I wanted to find a great photo that would stand out on its own, so I spent a bit of time looking through the many that are stored on my hard drive. I came across this picture of my son from last summer in the front garden – I remember the day was so warm and sunny; he was sitting on the grass under the shade of the big willow tree when I took this.
I thought I would make the layout about his love of playing in the garden ("play grass, mummy!") so I chose some greens and browns for the layout, and used a splash of red to accent which matched in with his T-shirt.
I opened the photo in Photoshop, and I decided that I was going to print the photo larger than I would do normally and make it the focal point. There was plenty of room for me to add journaling straight onto the picture, which I finished off with some word art by Ali Edwards and some digital brushes by Jason Gaylor.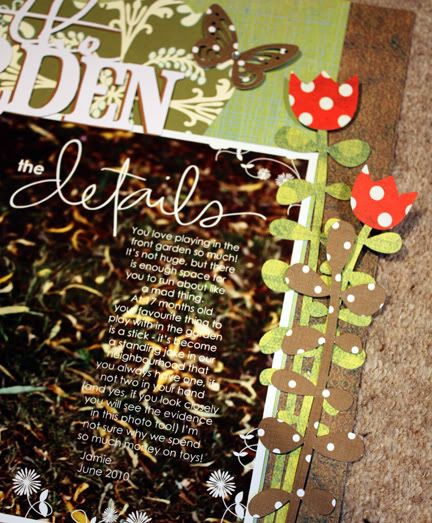 I used my Craft Robo to cut the title, the ferns and the flowers, and I completed my title with a butterfly punched from some more spotty paper.
Journalling reads as follows…
You love playing in the front garden so much! It's not huge, but there is enough space for you to run about like a mad thing. At 17 months old your favourite thing to play with in the garden is a stick – it's a standing joke in our neighbourhood that you always have one, if not two in your hand (and yes, if you look closely you will see the evidence in this photo too!). I'm not sure why we spend so much money on toys!
Jamie
June 2010
Supplies: Patterned paper – K&Co, American Crafts, Basic Grey, My Minds Eye, Echo Park.
Other – Craft Robo, Go Kreate die, Butterfly punch, American Crafts Jumbo Brads, cabachon flowers.
Hybrid – Title and Journalling Overlays by Ali Edwards www.designerdigital.com
Fresh Foliage Brushes by Jason Gaylor www.designfruit.com
Here's my layout for Week 4 of the competition over at UK Scrappers – the storytelling challenge!
For this week's challenge I decided to scrapbook some of the small memories of my childhood that I have drifting about in my head!
I began by jotting my random memories down in a word document as they came to me – once I started remembering things they came thick and fast! I kept it down to one side of A4 as I thought I would struggle to fit any more than that on the layout.
I used some lovely Echo Park – For the Record papers for this week's layout, the colours went well with the two pictures of me as a little girl that I found.
For the journaling I opened a document in Photoshop and used a piece of digital paper to create the notebook style background. I then copied and pasted the text from my word document (save me typing it twice), I also used some digital brushes from a couple of sets from Rhonna Farrer behind some of the text, and turned down the opacity of the layers so that they melted into the background rather than overpowering the text.
I printed this off and then cut the individual memories into rough tag shapes. I also added some Tim Holtz tickets, a Prima bloom, and some stripy twine and a button.
I used my Craft Robo to cut the title, and Go Kreate / Nestability dies to cut the shapes beneath. I put them together but it still seemed that it needed something else to make it pop, so I used my white gel pen to add the white dots around the outside which helped.
I also added a red rose from an Echo Park digital kit to add a little interest in the bottom corner. Also, check out that carpet – 1970′s groovy!

Supplies –
Patterned Papers – Echo Park, For The Record.
Other – Silhouette Craft Robo, Prima Bloom, Tim Holtz tickets, stripy twine.
Hybrid – Stationaries Kit by Linda GB www.scrapartist.com
Funky Flowers, Vintage Glam and Swirls V4 Brushes by Rhonna Farrer www.twopeasinabucket.com
For the Record Paper / Element Pack #1 by Echo Park www.jessicasprague.com
Journaling:
Two little cuddly toys – Doggity and Rabbity. Surprisingly, they were a pink dog and a blue rabbit. I couldn't sleep without them. I wonder where they are now?
Living in the house that my parents still live in now. I know we lived somewhere else until I was almost two, but I don't remember anything about it. I had my own room, and a playroom under the stairs. We had a huge back garden that was almost a sheer drop down to a stream, but I was too scared to go down there, especially on my own.
When I was a little older, I pestered my mum to give me a chore. My brother and sister had chores, I was a big girl, I wanted a job too! I was allocated ironing my dad's work shirts. It was fun for about a week…
I remember climbing the stairs (apples and pears) to bed, chanting "We're on the villains trek, we're on the villains trek! Him, me, them and us, we're on the villains trek!" I still have no idea where this came from. My sister says it was from my Grandad…
Reading Winnie The Pooh books to my dad in the car while he was driving. Being able to recite the poems off by heart. Three cheers for Pooh! For who? For Pooh! Yes, I can still remember them now.
Riding my bicycle around the close – if you were daring, you would go up the little hill and down the big hill and you could build up enough speed to make it almost all the way back to our house without pedalling. It probably wasn't, but oh! It felt so fast on a summer's day, with the wind in my hair.
Being a Lonely Little Petunia in an Onion Patch for the ballet school show, wearing the green tutu that my mum made me. I have a dim memory of being on stage, dancing with Emma, my best friend and neighbour!
Lying in bed, waiting for my older sister to come home from shift work at 10pm, tapping on the wall when I heard her come up the stairs so that she would come in and say hello. Also, getting up for school on the days when she started at 6am and finding notes and small presents left on the kitchen table for me.
Trying to be cool in front of my older brother's friends and failing miserably. Offering to do my brothers job of cleaning the bathroom…for a fiver. He always paid up.
The challenge for week 5 was to use a single photo. Here's a sneaky peek of mine, you can see all the layouts in the
gallery
over at UKS.
So – I was in the bottom two for week 3 and this was my survival layout….
These are some of my favourite early morning pictures of my little boy when he was 4 months old. I just love the way he is giggling away to himself in the smaller pictures.
For my hybrid elements on this layout I used some ledger paper from a digital kit and typed my journalling onto it, and then finished off with the little plane. I thought it went well with all the clouds!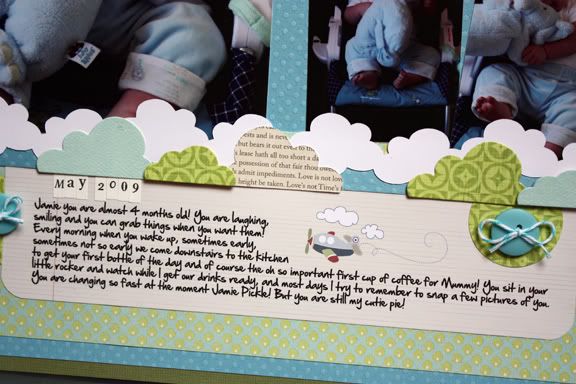 Supplies: Patterned Paper / Cardstock – Bazzill Dotted Swiss, K&Co, Prima, Making Memories, Crate Paper.
Title – Craft Robo, American Crafts Thickers Poolside.
Other – Buttons, Twine, Making Memories Letter Stickers, MFT Clouds Die.
Hybrid – 100% Boys Kit by Mindy Terasawa www.designerdigitals.com
Stationaries Kit by Linda GB www.scrapartist.com
Thought I would catch up with a  layout from the Scrapfactor competition over on UKScrappers. This one was for week 3′s challenge of taking inspiration from a song.
Taking inspiration from a song – gosh, where do you start? There are just so many to choose from! I sat and flicked through some tunes on my iPod and jotted down a few favourites but couldn't really decide. It wasn't until I was downloading some pictures from our trip to the zoo on Good Friday that inspiration struck – as soon as I saw these pictures of Jamie and his cousin Dan I started singing Two Little Boys in my head and that was that!
I think it's kind of funny that it's mainly the backs of their heads in these photo's as they kept running off together, neither of them was particularly bothered about seeing the animals, they just enjoy playing and running about.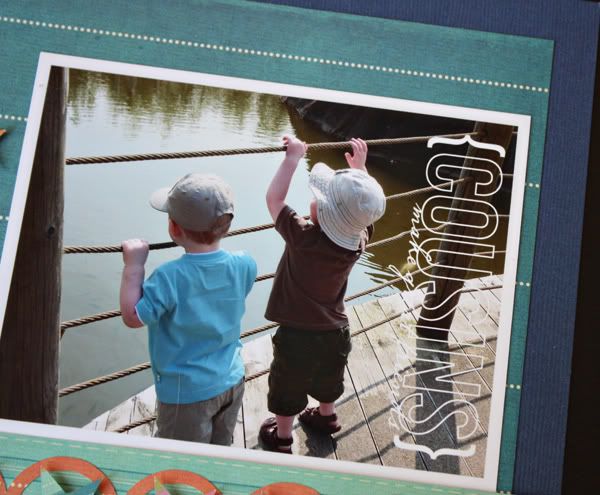 I picked out the pictures that I wanted to use and then I added a digital overlay from a set by Katie Pertiet to the biggest picture. It wasn't the right colour to stand out against the dark background of the photo so I changed it to white before I added it.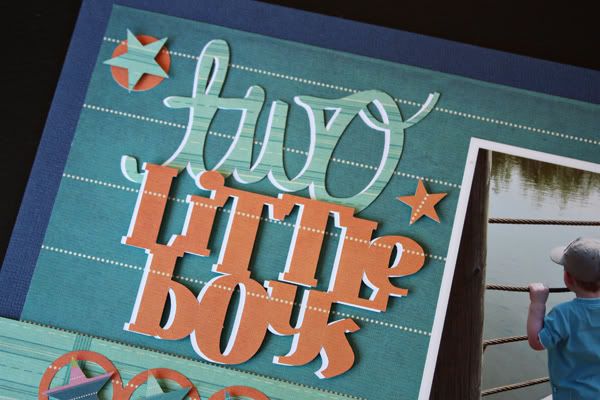 I used my Silhouette Studio software to cut out the title – the "two" was a download from the Silhouette store and the "little boys" I made myself. I also cut the circle border and the stars on my Craft Robo using the Silhouette Studio software. I loved the way the lines on the different colours of paper matched up!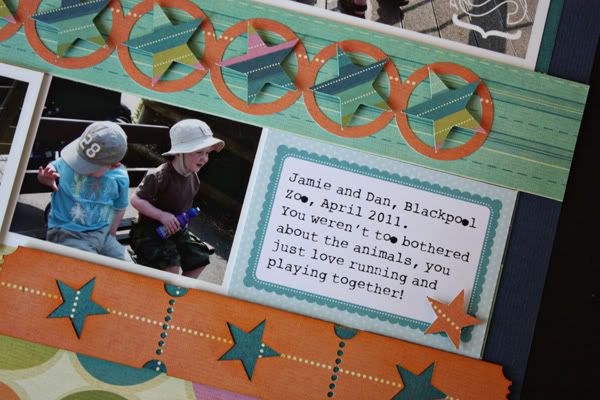 I added a little journaling block from an Elle's Studio Journalling kit (details below) and then finished off with the little ticket strip, also cut on my Craft Robo.
Supplies: Patterned Papers – My Minds Eye Vintage Blue Collection
Title, Border, Stars and Ticket Strip – Silhouette Craft Robo
Hybrid – Bracketed Sentiments by Katie Pertiet www.designerdigital.com
County Fair Journalling Tags by Elles Studio www.jessicasprague.com
Now, I'll be perfectly honest, this was not my most favourite layout ever! I was not having a good week, things got a bit on top of me and it was not really a big surprise when I found myself in the bottom two. Fortunately I had already prepared and uploaded a "survival" layout that I had created a couple of weeks earlier….I'll show you that one tomorrow!
Here's my layout for week 2 of ScrapFactor.
I must admit, when I saw this week's theme I was a bit stumped at first. I don't really buy many magazines, I much prefer to spend £3.50 on a book rather than a magazine I will have finished reading in twenty minutes!
Anyway, I'm not one to give up on a challenge
so I hot footed it to the supermarket in my lunch break and spent a while flicking through the magazines until I found something that inspired me. As luck would have it the ad was in a cookery magazine with a picture of a rather delicious Victoria sponge on the front so I'm sure it will come in handy anyway!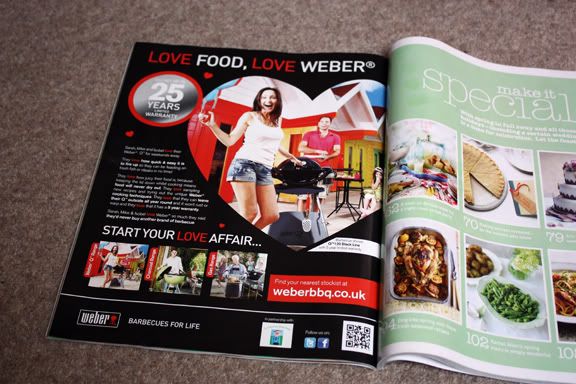 Armed with my inspiring advert I sat down to create. Firstly I was struck by the colour scheme of red, white and black so I decided to go with those colours. I also loved the big heart shaped picture but I wasn't sure that would translate very well to my layout so I went with a large, square picture and echoed the placement on the page.
I also liked the three little pictures on the bottom left of the advert – but I decided to use embellishments rather than pictures and went with the apple die cuts from the Silhouette store. I also used a die cut for my title.
I used one of my favourite pictures of me and Jamie, extra special because mostly, I'm the one behind the camera so there aren't a lot of pictures of us together.
For my hybrid elements I used some journaling tabs from a free kit and typed onto them in Photoshop before printing and cutting out.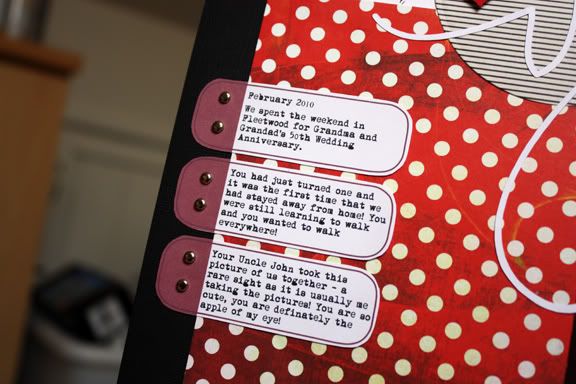 I also used some Rhonna Farrer digital brushes from her Parisian Anthology kit and printed them onto white cardstock, then used my spellbinders ribbon banners dies to cut out a patterned section of card, and attached them onto my layout.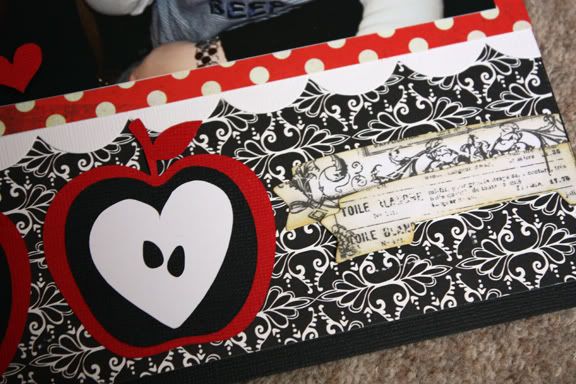 Supplies: Patterned Paper – American Crafts, Basic Grey, Fancy Pants.
Other – Title, Apples, Hearts all cut on Craft Robo.
Hybrid – Two Little Birds Free Kit by Studio Q www. scrapbookgraphics.com
Parisian Anthology Brushes by House of 3 www.houseof3.com
Here's my full layout for Week 1 of ScrapFactor – the colour challenge.
I was so happy to see the colours for this week's challenge – pinks and greens are one of my favourite colour combinations to use! I went through my stash and started pulling out lots of different shades and patterns in green, pink and blue.
I was pretty sure I wanted to use these photos of my beautiful niece Grace when she was newborn, so my next step was to print the photos out so that I could find the right combination of papers to use with them.
I used a photo template in Photoshop from Kerri Bradford's Picture That Go Long set (credits below) and just dropped my photos into each layer and used a clipping mask to make them fit inside the template windows. Once I was happy with how it looked I printed the photos onto a sheet of A4 glossy photo paper and trimmed it to size, leaving a white frame all around the outside.
I settled on using a lovely green polka dot paper from American Crafts and this pink patterned die cut paper by Rhonna Farrer. Now, I'll be honest with you – I spotted the date on the back of this paper and it was 4 years old! This is what happens when I save stash for something special, I'm only just using it 4 years later! Never mind, it worked out just right for this project
I backed the spotty paper onto white cardstock and then again on green, I was happy with this so I stuck it down before I could change my mind! I then started to think about the title – first I had a look through my collection of cut files for the Craft Robo but I didn't find anything that fitted the bill so I went with some glittery AC thickers.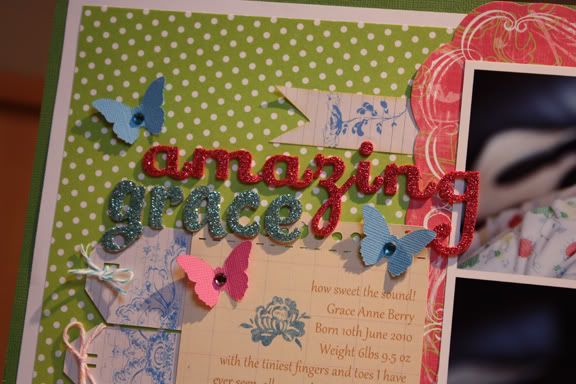 I used the Craft Robo to cut out the torn notebook page that I used for the journaling, and I used the print and cut technique for this. First, I used Photoshop to type out my journaling and added a little blue rose as an accent from a set of digital brushes by Rhonna Farrer. I then saved this as a jpeg and then opened up my Silhouette Studio software and loaded the jpeg onto a blank sheet. Next, I opened up the notebook page cut file from the Silhouette library and positioned it around the journaling. I added registration marks, printed it out onto some ledger paper and then fed it into my Craft Robo to cut out the shape.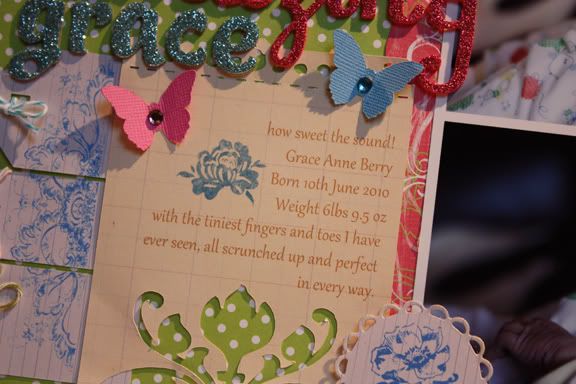 I positioned the title and notebook paper on the layout and started to think about how I could embellish it a bit more. Because of the spring like colours I immediately thought of butterflies, so I used my Robo to cut some out in pink and blue so they could flutter across my page
It still needed a little more, and I also wanted to bring a bit more of the blue colour in as an accent. I went back to Photoshop and opened up a piece of ledger paper from the Linda GB Stationaries kit, and then I created a new layer and used another brush from the Rhonna Farrer kit to stamp onto it. The great thing about using digital brushes is that you always have the right colour of ink
and you can make the image as big or as small as you like….
I love being able to print out my own ledger paper from digital kits – I use it all the time and it is so much easier than trying to feed bits of paper into your printer and hoping that your journaling or whatever else comes out in the right place!
I then opened it up in Silhouette Studio and arranged the three tag shapes across the stamped image, printed and then cut, and tucked them under the side of the journaling page adding a different colour twine bow to each. I went back and printed another couple of blue roses onto ledger paper and cut those into different shapes and added them too. All done!
Supplies:
Patterned Paper – American Crafts, Rhonna Farrer, Making Memories.
Other – American Crafts Thickers, Stripy Twine, Gems,
Craft Robo/Silhouette – Butterflies, Torn notebook page, Tags.
Hybrid – Stationaries Kit by Linda GB www.scrapartist.com
Funky Flowers Brushes by Rhonna Farrer www.twopeasinabucket.com
Picture That Go Long by Kerri Bradford http://kerribradford.blogspot.com/
The gallery for week 3 has gone live – above is a sneaky peak of my layout for this week. There are some lovely layouts in the gallery this week, lots of talent on show! The gallery is here for you to go and have a look and vote for your favourite.
It was a bit of a hard week for me this week, what with work and other stuff I have felt a bit like I was meeting myself coming backwards. Despite two long weekends there just weren't enough hours to go round!
The theme for week 4 has also been announced – it's a story telling challenge which has me a little bit worried, mainly because I'm just not sure I have any interesting stories to tell! Never mind, I will have to get my thinking cap on and see what I can come up with in case I am still around next week…
I will also be posting my layouts for the last two challenges over the next few days…
Here's another one of my ScrapFactor layouts – one of the five layouts that we had to submit was a no photo layout which is what I am sharing with you today. It was kind of difficult at first until I started thinking about it as an oversized card which made it a lot easier!
I used some of the lyrics from one of my favourite songs – Make You Feel My Love by Adele which I just think has the most gorgeous words. I used some papers from My Minds Eye Bloom and Grow range, and I thought I would go for 8.5 x 11 for a change. I used some punched butterflies with die cut leaves and a lovely Prima flower to embellish, and the stamp you can see is actually a digital brush by Rhonna Farrer from the Gypsy Elements kit.
And if you haven't voted yet, the gallery is here…